Well I thought it was about time I kept you up to date with all that happens here. Here is the Latest News!
WARNING  Please be aware of water vole holes.
You are here entirely at your own risk!
Keep your bait covered.
2019

Fancy a break?
A peaceful long weekend or a week or two?
Call me anytime to check what is available
8 – 5 – tel: 01842 829796
A new telly is ready with freeview and a cd player. we have put a few cd's in there if telly bores you.
We don't have a noisy playground here, so if you are recovering from a health scare and need to relax.
We are here for you
*********************************
March 2019
We have a few enquiries about holidays, Please contact me and I will update
the calendar as deposits come in. 
No Deposit, no booking, it is that simple. 
£20 will secure your date.
We have had an incredibly mild winter and it has been
fishing amazingly well!.
It is now March and the wind is vicious at the mo.
Please be careful, you matter!
Have a fabulous year
and please call me if you need any help or information.
Gilly
01842 829796
****************************************************
Thanks to the icy days helping, we are hopeful that the Algae will not
re-occur again. We will endeavour to keep check on the water quality.
All you need to know will be posted on the notice board.
To date we have been lucky and had no toxins and we do have the
Chemicals should they be needed again. (hopefully not!).
We as a family look forward to seeing you again soon!
Take care. 
Dear friends, please take care in this heat. it is 86f and 30c
Make sure you have plenty of fluids and better to use your umbrella.
Take good care of your skin too, before and aftercare suncream.
Yesterday some of you went home really suffering with the heat, and today is way hotter and more heat is forecast.
We will be applying a new safe chemical to avoid algae soon
This will make the lake cloudy for a few days, but nothing to be concerned about.
We have purchased enough to last us a few treatments for the next year or so.
If you want to know what we are doing,
You can see the information on the following links.
Hydra-Silt-Less Base
https://www.hydra-aqua.com/lake-silt-remover.html
Hydra Silt-Less Bio Bacteria
https://www.hydra-aqua.com/lake-sludge-digester.html
October 2018
Hello again from us.
Thank you so much for your feedback, we love to hear from you.
We are so happy you have had a great year for fishing and relaxing. 
Just another month before the mobile home will be unavailable 
Until next year. 
So if you want a break contact Gilly 01842 829796 Mon – Sat 8am – 5pm 
Weather permitting we will be open all year around apart from 
Christmas Day, Boxing Day, New Years Day. 
We so look forward to seeing you many times again. 
take care. 
Gilly and Ian 
May/June/July/August
Hello there!
From mid May and continuing June/July/August
the weather has been wet and mild and now getting hot.
We do have a light Algae bloom but it is non toxic.
But I do advise you to wash your hands before eating.
We have the filters all around the lake and we
have them on full blast every morning before you get here.
This will replenish the oxygen, so that is working great.
We also have barley straw around the lake to help it too.
We've had a crazy busy weekends so far and some fab results
from some of you dedicated anglers.
I am waiting for some brilliant pictures and I will post
them when they get here.
Have a great Summer!.
Call me if you need info.
Gilly.
****************
We have had an incredibly mild winter and it has been
fishing amazingly well!.
It is now March and a Polar Storm is forecast for later
this month.
Let's all hope it does not happen!
If it does and the lake freezes.
Be warned it will be closed.
Have a fabulous year
and please call me if you need any help or information.
Gilly
01842 829796
Lucky us!  No Algae blooms so far! 
July.2015
It has been pretty interesting this month.
We had a couple of crazy storms and had 2 Buddleah trees break.
The amount of voles seem to have decreased. (Good news!)
Watch the orchard, there will be a great amount of Apples.
Help yourself when they are ready to pick!
We have been extremely busy and the lake is fishing
extremely well.
Very happy holidaymakers and some have rebooked!
It will be wonderful to see you again!
Have a lovely summer, and just ask when you need help
June.2015
To date it has been a fantastic year!
After a mild winter, it is fishing extremely well!
Super happy holiday makers have been and also
booked again with us.
Awesome that you are so happy!
July should be crazy on the 4th, not only the local air base
opening to the public for a massive celebration.
This is also going to be the whole village yard sales.
And the local school fete just before RAF Feltwell open
The gates to the public.
Primarily please be warned, the traffic on this day will
be busy and you may find it hard to get here or home.
take care!
Gilly.
May.2015
After a very mild winter, the fishing is fantastic!
There are some excellent weights being landed.
Our holiday makers  have had a great time and
Fab fishing for them.
I look forward to seeing you all back this year.
have a safe journey and take good care of yourselves.
July 23rd
Hi all.
Well the lake is looking good, we seem to be winning
the algae problem.
We are now non toxic.
This week some of the fish seem to be happy,
they are spawning a little late in the year.
But what the heck. we are having more new
babies  Yay!
Have a great week everyone.
Gilly & Ian
JULY 2014
Here goes.
June we had an early algae bloom.
Verdict from fisheries. 'border toxic'
Now after considerable aeriating we are
now testing non toxic.
Oxygen levels are good and we are lucky
we have had no distress (touch wood!)
Fisheries have been great,
They have been regular with the testing for
toxic and also oxygen.
We are doing everything and more than they recommend!
We have 7 pumps working early mornings to maintain
oxygen levels.
We have Barley straw, this releases chemicals
that kill the algae.
Unfortunately, it is costing a fortune in electric!
But so far we have been coping.
Matches are good and some folk have been
catching brilliant!
Good ole Derek who holidays here every year.
Caught over 35lbs in just a 3 hours this morning!
He loves it here.
I took some fab pics this week. go to the gallery and
see them they are great.
again you will be here at your own risk.
the voles are still here and so are the darned holes.
Be careful.
take care.
Gilly
MARCH 2014
Well it is time to bring you up to date.
The mobile home has been redecorated.
new flooring in the hall.
and it has new crockery.
and pans.
I will post some new pics soon.
I hope you will like it.
For those of you who come here
regularly.  I am trying
to make you more comfortable
and cozy.
Games for the kiddies, DVD's
and a DVD player and a new Telly.
Now you have a nice 24″ Flat screen
and Freeview, like you had before.
Hopefully I will be able to get
the broadband working soon.
and I will be selling access to
the network.
(fingers crossed).
Take care. I am looking forward to
seeing some of you again.
Gilly  🙂
NOV 2013    
Not a lot to say, but wow, hasn't it been wet and windy?
We are still open and the fish are still biting.
Keep warm and safe, and just let me know
if I can help at all.
Hope you all had a great Halloween
and bonfire night.
chat soon
Gilly
September 2013
Well it is still hot and humid.
However we are managing the water okay
at the moment.
It is still fishing really well.
Did you see that there was another
article about water voles on the BBC?
They were saying there is a bigger decline
in the numbers and the environment agency
were doing all they can to improve it.
REALLY?
I DO NOT THINK SO!
We still have a massive influx of them and
The EA and Natural England are NO help at all!
So if any officials are reading this and do not like it
TOUGH!
Time they got of their backsides and did something
here for us.
Nuf said.
enjoy what is left of your summer.
Gilly.
July 22nd 2013
Hi All,
Well it is very hot and humid.
What the heck happened to spring?
We are keeping the lake aeriated as much
as possible and we have barley straw added
to the water, to try and keep the Algae down.
Please let us know if you see any fish in
distress, so far we have been lucky.
No panic for concern at the moment, and
still we are getting some really good catches.
There is a match on Sunday 28th, so no open
fishing until after 3pm. Sorry 🙁
It is important to please dip your nets.
We have the barrel filled with disenfectant.
Caught one person with boilies this week.
When pointed out they are banned, he said
'tough I will use them!'
We said bye, bye and you are banned!
We ban boilies, because they cannot disperse in
our little lake and they rot and kill fish.
Please check the rules,
We are pretty fair and expect some respect as
regards the management of the water.
Again please be aware of Vole holes.
and have a wonderful week
Gilly and Ian 🙂
July 7th 2013
Hi All.
Wow what a scorcher!  🙂
This has to be the busiest day we have had.
Every single peg was taken.
And I am afraid, some of you got sun burned.
Please remember we are so open here, you really
do need that brolly for shade and shelter.
and do remember your sun cream.
The Voles are still lively and please cover your bait.
They are getting braver at stealing.
Please, Please, be careful of Vole holes.
Just one more word today.
Please read the rules.
No Boilies here.
and No dogs.   🙁
Have a glorious sun filled week.
Looking forward to seeing you soon!
Gilly & Ian.
June News
Yay! the sun is out at last.
Again please be careful of the vole holes.
The lily pads are coming up nicely and the
fish have started to spawn late again.
Some really nice tench are coming out at
the moment. And I think we have a large
goldfish that seems to like being caught.
Maybe we should name him Kamikazi Sam 🙂
Enjoy the sun, it has been too long in coming.
Have fun.
Gilly
Week Commencing 22nd April
Well the weather is definately improving.
some nice catches have been happening.
I found a DSiXL in the mobile home.
Is it yours?
call me with description and user name
and I will post it to you.
Have a great week!
Gilly & Ian 🙂
Week Commencing 1st April
Well everyone, Ian has been busy, you now have
a steel shed for your tackle to be stored.
It is completely lockable. So should save you
keep having to either walk over it, or lock it in
your car.
We have also updated some of the cctv and also
(hopefully) made a better access for you to the
internet if you have a smart phone or laptop.
Still cold, but forecast is getting warmer next week 🙂
Week Ending Sun 17/2/2013
Getting ready for you lovely holiday makers.
If you celebrate this  HAPPY ST PATRICK'S DAY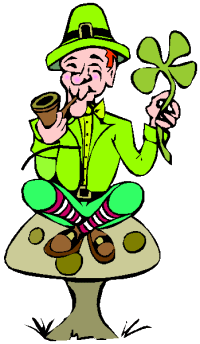 Hi everyone.
Well the snow has gone Yippee!
Still very cold and the occasional freeze on the water.
Today it is very sunny, but also cold.
However we do have a few Brave if not
completely barmy fisher folk on the lake.
Lets hope for warmer and sunnier days ahead.
Have a great week!
Gilly and Ian.
Well as you can probably guess, we are closed. Enjoy the snow If you like it!
HAPPY NEW YEAR TO YOU ALL FROM ALL OF US!

Weekend 29th December 2012
Hi all.
Well it is still wet, cold and windy.
The poor lake is overflowing at the back,
near the orchard.
Poor Ian cannot use his pit, that is about
3 foot of water in it.  🙂
Never known it so wet.
We had a lovely Christmas. We hope you did too.
Have a great New Year.
(leave your car at home!)
Be safe and have a great time 🙂
Gilly and Ian
Weekend 14th December 2012
Brrrrrr! Baby its Cold Outside.
Well the Lake has now been frozen for nearly 2 weeks.
So nothing much to write about really.
EXCEPT
If you do not hear from me soon
Have a wonderful Christmas To All of you.
I hope Santa brings you what you want. 🙂
Gilly
Weekend 18th Nov 2012
Hi everyone.
Not much to tell really, it has been wet and cold and we have been very quiet.
I have updated the pricing for the holidays for you.
have a great week.
Got a good photo of a catch here?
Please forward it to me and I will add it to the gallery.
Weekend 20th Oct 2012
Hi peeps.
Can you feel it? Winter is a comin'
Damp and soggy this week.
Still it does not seem to bother the fish or
our dedicated fisherfolk! 🙂
Check out the just for fun page,
I put a funny video on there.
Enjoy
Gilly
Week Ending 30th September 2012
Well all, its been a bit of a mixed week really.
A mix of rain, wind and sun. But a bit chilly.
Again no biggies this week, but some fairly decent
size fish.
A Lovely 2lb 4oz Linear
Some nice tench and quite a few common
sizes up to around the 8lb mark.
So to end this week. I have a rotten cold. 🙁
Its a hot toddy for me and see you next weekend.
have a great week
Gilly
Week 17th September 2012
Can you feel it?
Well there is a definate chill in the air this week.
But it has not stopped our hardened fisherfolk!
Some nice catches this week (waiting for photos)
Beautiful Tench
a nice common at 14lb 4oz
(well done Brian)
Lots of Cucian too.
Keep catching folk!
have a great week 🙂
Gilly
w/e 1st September
Well that's another fine mess you got me into!  LOL.
Julie and Jeff returned for their second visit.
On arrival Julie asked "has it rained lately?"
"No" I replied
"It's been really nice the last couple of weeks!"
Famous Last Words.
That afternoon the thunder started around 12 noon
and did not stop until late into the night.
Never have we seen such a vicious storm, that
has lasted so long!
Next time I will say.
"Well it hasn't been too bad"
Jeff caught a smashing Carp,
will post the photo as soon as I get a copy
Have a great week. 🙂
Gilly

w/e 18th Aug 2012
Not too bad a week weather wise. makes a nice change.
Our guest were very lucky with the weather,just the odd shower.
Still no news from the Natural England or the Environment agency about the removal of
some of the Voles.
So a quick reminder,. Be careful of Vole holes.
Keep your bait covered. and please do not throw left overs in the lake.
Yes I do know the fish will eat it, but so will the water voles.
There is a net dip, please use it. thank you.
Managed to cut the grass, we are trying to keep it well maintained and short.
Spotted a little grass snake sunning himself. and the Roe Deer made a few
appearances this week. Beautiful Dragon Flies have started to arrive too.
Now is the prettiest time at the lake.
The water flowers are beginning to bloom and the lily pads are beautiful.
Hopefully we will have lots of Apples this year.
(please help yourself to them, but be careful. there are cookers and eaters there)
Don't give Henry (the horse anything sweet) he goes a bit loopy and tends to hurt himself.
He is a nice old boy, but if he comes to the fence please only bread. thanks.
The most popular bait this week has been bread, sweetcorn and luncheon meat.
There have been some lovely Tench out too!  Nice size catches all week. average up to 13lb
One of our guests caught over 40lb of fish in just one afternoon!  NICE!
Had one complaint.
one chap caught the same big goldfish 3 times! LOL
Told him its name was harrykarry. 🙂
Looking forward to a hot and busy weekend.
Have a great one yourself. wherever you are!
see ya.
Gilly & Ian.
&nbsp